The data layers menu contains the following two elements:

The bar of maps and layers of management tools.

The tree layers of the current map.
Note
A MapMint card matches a card MapServer configuration file (mapfile)
A context menu is available in the upper right of the map, to the left of the usual authentication button. It lets you choose the base map to use. By default, when you load your funds OpenStreetMap map creation module are displayed. You can either use MapQuest Map and Satelite or using a colored uniform background. In the latter case, you need to click on the colored square in the context menu to bring up the color selection tool, then select a color to display the map on this background color.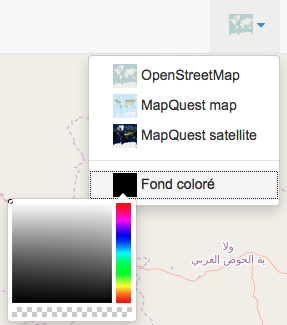 | | |
| --- | --- |
| Icon | Action |
| | Open a map |
To open an existing map, click on the corresponding icon on the left of the map being edited. This causes the display of the map just opening menu below. Select a project by entering its name in the text field provided for this purpose, selected the name of the map to open in the list and click the "Load" button.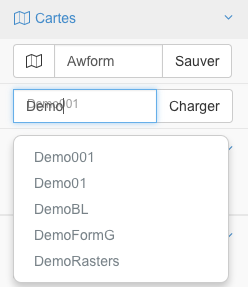 The opening of the card triggers the refresh map creation module and loading the requested map.
To save the current map with a new name, change the name of the card in the text field provided for this purpose, then click the "Save" button.

Warning
The name of a card should not contain spaces, accent or special characters
In making a right click on the first node of the tree ( "Layers") layers, a context menu with the tools listed below appear.
| | |
| --- | --- |
| Icon | Action |
| | Add one or more layers to the map |
| | Adds a grid to map layers |
| | Opens the order management panel layers |
When you click on a layer with the right mouse button you see the menu appear then a layer.
| | |
| --- | --- |
| Icon | Action |
| | Zoom map the geographic extent of the layer |
| | Open the window containing the attributes of the layer table |
| | Opens the edit panel of properties of the layer |
| | Delete Layer |